About the Castle Manětín
"Baroque pearl of West Bohemia"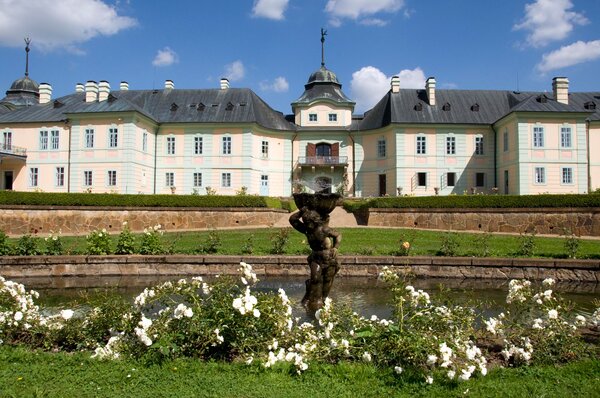 A small medieval fortress probably stood on the grounds in the 12th century. Later a Renaissance chateau was built, which burned down in a great fire of 1712. Subsequently, the chateau was completely rebuilt in the form of an extensive Baroque mansion, based on the design of the Imperial builder Thomas Hafenecker, commissioned by the Lažanský noble family who lived here since the mid-17th century for more than 300 years. The interiors hold an extensive exhibition of Baroque furniture, and there are fine frescos by Julius Lux in the main hall and entrance hall, as well as a unique collection of 18th century paintings of castle servants. The portrait gallery of the Lažanský family by the outstanding Dutch painter Christian Philipp Bentum is also significant. The chateau is connected by a covered walkway to the oratory of the Church of St. John the Baptist, where it is possible to see the altar painting by Peter Brandl "Baptism of Christ in the Jordan" during the tour. There is a beautiful chateau park, which leads into the town of Manětín, where, besides architecture, you can explore a multitude of unique Baroque sculptures. Manětín is a very popular place for wedding ceremonies, due to its romantic atmosphere.
Quick contact
Are you lost? Don't worry, give us a call and we will help you.